Pnematically Operated AutoThread Lubrication System
Jaguar Pump
The pump is mounted on a grease reservoir along with air FRL unit, vent valve assembly and follower plate. This pump is available to suite reservoir capacity of 27 , 50 and 180kg. All hoses required for the pump station assembly include vent line hose and grease refill hose. Level indicator rod is provided for monitoring the grease level in the reservoir.
Technical Specifications :
| | |
| --- | --- |
| PUMP OPERATING RATIO | 60:1 |
| AIR CONSUMPTION | 15.9 cfm |
| MAX. GREASE OUTPUT PRESSURE | 600 bar |
| AIR MOTOR DIAMETER | 3.15 in. |
| AIR MOTOR STROKE | 3.15 in. |
| MAX. FLOW RATE | 2000 gms/min |
| AIR INLET | 3/8" bsp |
| LUBRICANT OUTLET | 3/8" bsp |
| WETTED PARTS | Steel, CI, NBR,PTFE |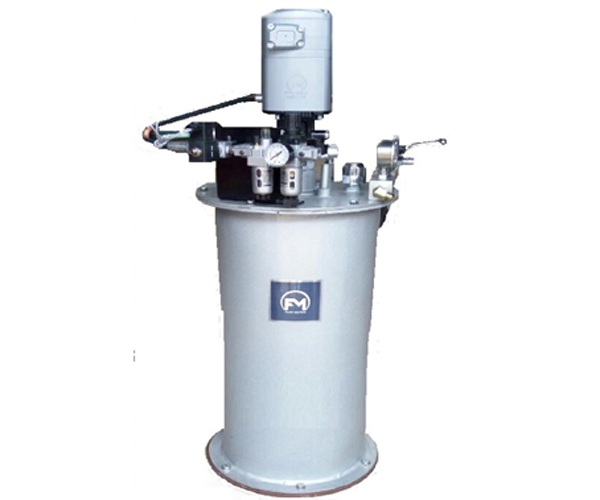 Special Appication
AUTOMATIC GREASE SPRAYING SYSTEM (THREAD LUBRICATING SYSTEM)
Automatic grease spraying system is a special purpose solution where the lubricant is automatically sprayed onto the gear teeth. The system includes a pneumatic pump (JAGUAR model) fitted on the lubricant reservoir. The pump supplies grease to spray valves that are positioned above the gears or component which is to be lubricated. An air control unit controls both the supplied air tothe pneumatic pump and the air directed towards the nozzle to spray the lubricant.
This system can also be accommodated along with the Automatic Centralized Lubrication System which can be controlled together with a special lubrication controller and a solenoid valve.
Advantages:-
The spraying covers the surface of the gear teeth obtaining a homogeneous film of thickness adapted to the gear requirements.


The controller provides provision of a cyclic lubrication.


User can adjust the lubrication cycle according to their requirements


The system is equipped with monitoring feature for optimum operation
Applications:
Applicable for gear drives used in the mining industry, cement works, steel-making, fertilizer plants, and composite plants among others.
Apart from JAGUAR pump, the below mentioned components are the prime devices comprising an Automatic Grease Spraying System.
Spray Valves
Spray valve body provided with lubricant and air feeds at opposite ends


The valve body has provision to add on other assemblies to carry on shut-off and clean out functions


Available with 1/8" and 1/4" NPT or BSPT thread ports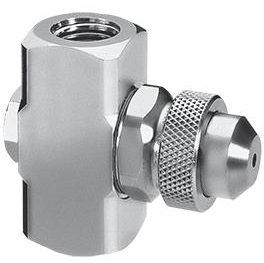 Features
COMPACT TIMER MOUNTS EASILY IN OPERATOR'S CABIN


SIMPLE TIMING SET-UP


TRIPLE MODE: PSI; TIME AND SPRAY MODE


DISPLAY INDICATES PUMP ON, PAUSE TIME, ALARM- ERROR CODE


24V DC POWER VOLTAGE


INDICATOR LIGHTS FOR ALARM, POWER ON, PUMP MODE, TIMER MODE, SPRAY MODE etc.