Electrically operated Automatic Lubrication Systems
Puma Lubrication Pump
PUMA grease pumps are electrically operated and are used in progressive type automated lube systems with Divider Blocks.
The multiport pump is equipped with an eccentric cam arrangement which operates with one or more discharge element pushing grease into lubrication lines. Versatile, compact and economical, this pump can be controlled with an external controller. The pump extends machinery life, reduces operating costs and increases productivity for usage in in-plant manufacturing and mobile markets. Operates with 12 & 24V DC; Available with 6 and 10 liters reservoir.
Technical Specifications
| | |
| --- | --- |
| Type | Electric driven, 24V DC power |
| Total Pump Elements | 3 |
| Reservoir Capacity | 6 & 10 liters |
| Min. Pressure | 20 bar |
| Max. Pressure | 400 bar |
| Operating Temperature | -30 to 70 deg. C |
| Lubricant Viscosity | Grease upto NLGI 2 |
| Lube Outlet Size | 1/4" npt - F |
| Lube Outlet/ Pump element | 4 cc. |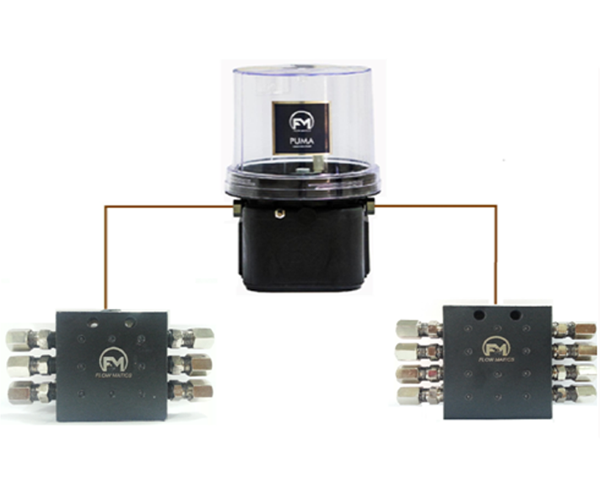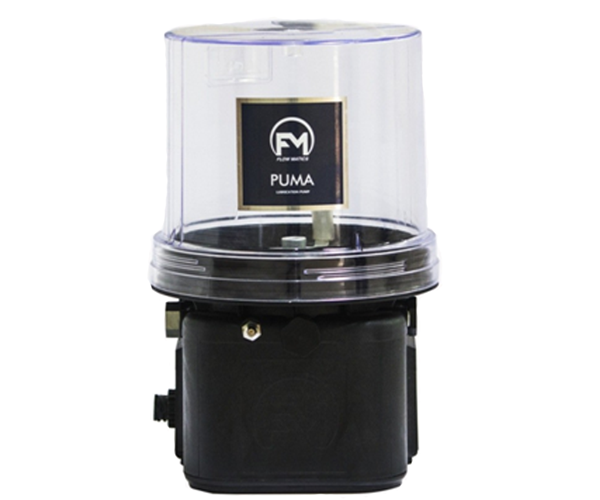 Features of PUMA Pump
Rugged, yet economical for any grease application


Operates on 24V DC power supply


Uses upto three pump elements for thrice the output


Easy to handle. Compact size fits into small spaces


Stirring paddle keeps grease from separating
Divider Blocks
DB series Divider Blocks are ideal for applications where space is limited. They are available in 6, 8, 10 and 12 outlet versions, each with an output of 0.2 cc. per cycle. The blocks are designed to provide a relatively simple and inepensive method of centralizing or automating the lubrication of machinery bearings. Integrated with Puma grease pump and an external controller, these divider blocks typically dispense small measured amounts of lubricant at frequent intervals while production machines are operating, ensuring trouble-free operation.
Technical Specifications
| | |
| --- | --- |
| Min. Pressure | 20 bar |
| Max. Pressure | 400 bar |
| Output Per Stroke Per Outlet | 0.2 cc/ min |
| Number of Outlets Available | 6, 8, 10 & 12 |
| Lubricante | Grease upto NLGI 2 |
| Operating Temperature | -10 to 70 deg. C |
| Lube Inlet Size | 1/8" bspt - F |
| Lube Outlet Size | 1/8" bspt - F |
Features of DB Series Divider Blocks
Integrated poppet check valves ensure best positive output


Outlet ports machined to accept standard pipe thread fittings


Corrosion resistant nitriding withstands the most extreme environments


All surfaces precision machined to prevent geometric deformations


Manufactured and tested to the highest industry standards


Lubrication Controller (LC-01):
FEATURES:-
Compact timer mounts easily in operator's cabin


Simple timing set up


Timer mode


Display indicates pump on, pause time, alarm (fault indicators) error code


24 VDC power voltage


Indicator lights for alarm, power on, pump mode, timer mode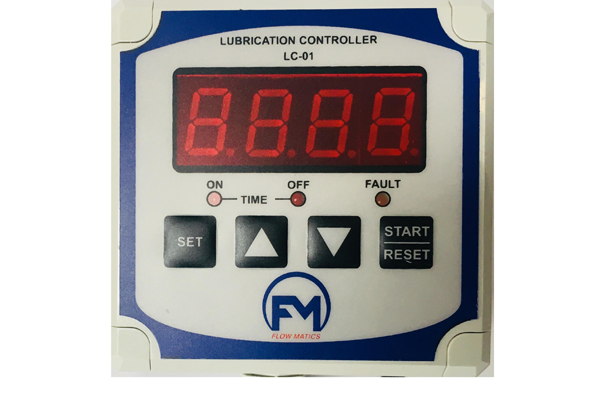 Pressure Switch :
Pressure Setting: 75-175 bar
Tubing and Fittings :
All Fittings are carbon steel compression type, which are as per DIN Standards 2353
Hoses :
Hoses considered are high pressure - reputed make for main line and feed Lines